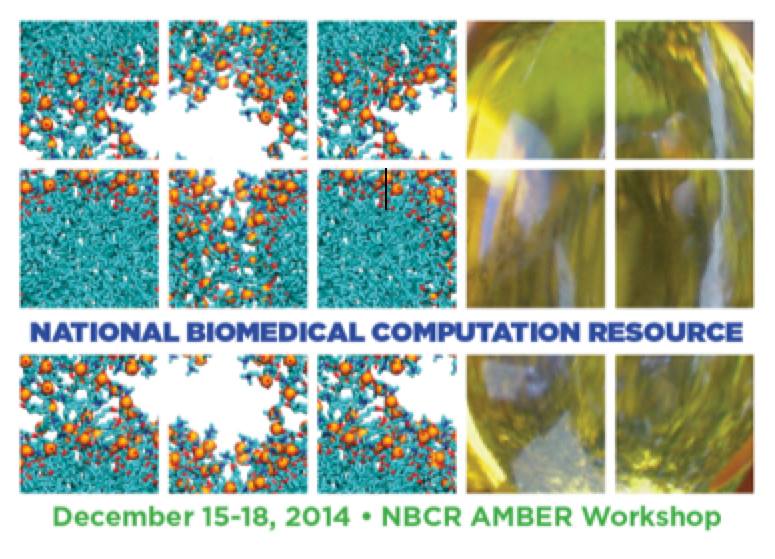 NBCR and NVIDIA are proud to co-sponsor a Hands-on AMBER molecular dynamics workshop at UCSD. Come learn both basic techniques, such as how to run molecular dynamics with AMBER's NVIDIA GPU code and how to use VMD to visualize AMBER trajectories, as well as more advanced topics, such as how to use BioKepler workflows for your MD runs and explore advanced sampling techniques such as Accelerated Molecular Dynamics (aMD).
Workshop attendees are encouraged to present a poster of their work. As an added bonus, NVIDIA will donate a Tesla K20C GPU that we will award to the best poster!
Dates: December 15th - 18th, 2014
Venue: Faculty Club, University of California San Diego, La Jolla, CA, USA
Organizers: Rommie Amaro
Instructors
Contact

Rommie Amaro
Ross Walker
Robert Malmstrom
Rob Swift
Olivia Kim
Ilkay Altintas

Registration questions
Teri Simas

This email address is being protected from spambots. You need JavaScript enabled to view it.

Workshop questions
Ross Walker

This email address is being protected from spambots. You need JavaScript enabled to view it.
Please see tentative day-by day schedule: Day 1 | Day 2 | Day 3 | Day 4
Registration Info
Registration for the workshop is now open – please register using https://www.regonline.com/NBCR2014

Registration fee: $350
Deadline: Dec 1, 2014.
No refunds or cancellations
Housing Info
There are several hotels near the UC San Diego campus. Our recommended hotel is the Sheraton in La Jolla, which is walking distance to campus, shopping, and restaurants.
Monday, December 15, 2014
Instruction type: L = Lecture, H= Hands on Tutorial
Time
Track
Type
Instructor
08:30 - 09:00
Registration
09:00 - 09:15
Welcome/Introduction to the Workshop
L
Rommie Amaro/Ross Walker
09:15 - 09:45
Student and Instructor Introductions
09:45 - 10:30
Introduction to force fields and molecular dynamics - Part 1 of 2
L
Ross Walker
10:30 - 11:00
Tea & Coffee
11:00 - 12:30
Introduction to force fields and molecular dynamics - Part 2 of 2
L
Ross Walker
12:30 - 13:30
Lunch
13:30 - 14:15
Overview of the AMBER package and its programs
L
TBD
14:15 - 15:45
Hands-on session 1: Introduction to molecular dynamics simulations using AMBER [Optional Extension]
H
TBD
15:45 - 16:15
Tea & Coffee
16:15 - 17:00
Overview of AMBER Force Fields and Solvent Models
L
TBD
17:00 - 18:00
Keynote Lecure (Research Topic TBD)
L
TBD
18:00 - 21:00
Workshop Dinner - Location TBD
Tuesday, December 16, 2014
Instruction type: L = Lecture, H= Hands on Tutorial
Time
Track
Type
Instructor
09:00 - 09:45
Dealing with non-standard residues
L
TBD
09:45 - 10:30
Practical Guide to Running MM/PB(GB)SA calculations
L
TBD
10:30 - 11:00
Tea & Coffee
11:00 - 12:30
Hands-on session 2: Building protein-ligand complexes containing non-standard residues with Antechamber
H
TBD
12:30 - 13:30
Lunch
13:30 - 14:00
What if there is no crystal structure?
L
Ross Walker
14:00 - 15:00
Markov State Models and AMBER
L
Robert Malmstrom
15:00 - 15:30
Tips for Designing a Good Simulation Project
L
Ross Walker
15:30 - 16:00
Tea & Coffee
16:00 - 18:00
Hands-on session 3: Introduction to binding energy calculations using MM-PBSA and MM-GBSA
H
TBD
Wednesday, December 17, 2014
Instruction type: L = Lecture, H= Hands on Tutorial
Time
Track
Type
Instructor
09:00 - 10:30
Statistical Mechanics for Free Energy Calculations
L
Rob Swift
10:30 - 11:00
Tea & Coffee
11:00 - 11:45
Accelerated Molecular Dynamics
L
Rob Swift
11:45 - 12:30
Constant pH Simulations
L
Olivia Kim
12:30 - 13:30
Lunch
13:30 - 15:30
Hands-on session 4: TI: Calculating relative binding free energies for protein/carbohydrate complexes
H
TBD
15:30 - 16:00
Tea & Coffee
16:00 - 17:00
Kepler Bioworkbench - Workflows for AMBER.
L
Ilkay Altinas
17:00 - 20:00
Attendee Poster Session & Social (NVIDIA K40 GPU to be awarded for best poster)
Thursday, December 18, 2014
Instruction type: L = Lecture, H= Hands on Tutorial
Time
Track
Type
Instructor
09:00 - 09:45
Enhanced sampling techniques, Replica Exchange, Umbrella Sampling and other k00l stuff
L
Rob Swift
09:45 - 10:30
Hands-on session 5: Umbrella sampling simulations
H
Rob Swift
10:30 - 11:00
Tea & Coffee
11:00 - 11:45
Hands-on session 5: Umbrella sampling simulations (cont'd)
H
Rob Swift
11:45 - 12:30
An Overview of Lipid Simulations with AMBER
L
Ross Walker
12:30 - 13:30
Lunch
13:30 - 15:30
Hands-on session 6: Lipid Simulations with AMBER
H
TBD
15:30 - 16:00
Tea & Coffee
16:00 - 17:30
2 Research Seminars from Invited Speakers
L
TBD
17:30 - 18:00
Final Remarks / Question and Answer / General Research Session
Ross Walker
Hands-on Sessions
Day 1:

Dec 15
Session 1: Introduction to molecular dynamics simulations using AMBER

Day 2:

Dec 16
Session 2: Building protein-ligand complexes containing non-standard residues with Antechamber
Session 3: Introduction to binding energy calculations using MM-PBSA

Day 3:

Dec 17
Session 3 (cont'd)
Session 4: Calculating relative binding free energies for protein/carbohydrate complexes

Day 4:

Dec 18
Session 5: Umbrella sampling simulations
Session 6: Lipid Simulations with AMBER
Additional Hands-on Sessions
1-E: (hands-on session 1 extension): Simulating a DNA Poly-A-Poly-T 10mer.
2: Using VMD to visualize AMBER simulations
Computational Chemistry and Biophysics O.M. Becker, A.D. MacKerrell, Jr., B. Roux, M. Watanabe, eds, Marcel Dekker, 2001: Chapter 3 "Dynamics Methods" pp39-67
Salomon-Ferrer, R.; Case, D.A.; Walker, R.C.; An overview of the Amber biomolecular simulation package, WIREs Comput. Mol. Sci., 2013, 3 198-210
D.A. Case, T.E. Cheatham, III, T. Darden, H. Gohlke, R. Luo, K.M. Merz, Jr., A. Onufriev, C. Simmerling, B. Wang and R. Woods. The Amber biomolecular simulation programs. J. Computat. Chem. 26, 1668-1688 (2005).
Computational Chemistry and Biophysics O.M. Becker, A.D. MacKerrell, Jr., B. Roux, M. Watanabe, eds, Marcel Dekker, 2001: Chapter 9 "Free Energy Calculations" pp169-197
Y. Sugita, Y. Okamoto, Replica-exchange molecular dynamics method for protein folding., Chem. Phys. Lett., 314, 141-151 (1999)