Versatile Python API for embedding modeling applications in advanced computer graphics environment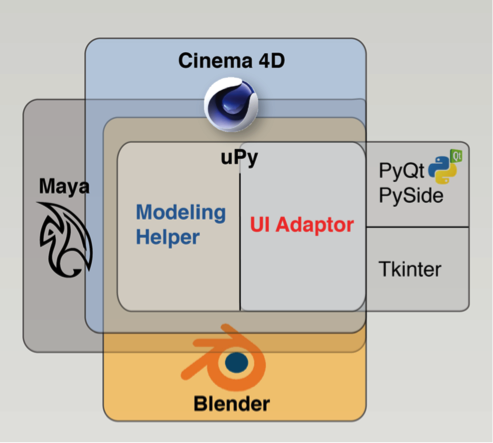 The uPy Python extension module provides a uniform abstraction of the APIs of several 3D computer graphics programs (called hosts), including Blender, Maya, Cinema 4D, and DejaVu. A plug-in written with uPy can run in all uPy-supported hosts. 
Using uPy, researchers have created complex plug-ins for molecular and cellular modeling and visualization. uPy can simplify programming for many types of projects (not solely science applications) intended for multihost distribution. It's available at 
http://upy.scripps.edu
. This allows a developer to combine multiple data types into one scene without ever leaving your favorite GUI. 
uPy is used by BLAMer to integrate the FETK (finite element toolkit) package component GAMer (geometric preserving adaptive meshing tool) into Blender for mesh visualization and refinement. The same package is also being utilized for MCell by the Bartol group (Salk Institution) to ease the integration of Mcell, a modeling tool for realistic simulation of cellular signaling in the complex 3-D subcellular microenvironment in and around living cells, into Blender, with the ability to utilize ePMV inside Blender/Mcell environment.
References: 
Ludovic, A., uPy: A Ubiquitous CG Python API with Biological-Modeling Applications. 2012, pp 50-61.
Researchers: NBCR: Michel Sanner, Ph.D., Core lead; Graham Johnson, Ph.D., Ludovic Autin, Ph.D; Service Project Lead Tom Bartol, Ph.D., (Salk); Collaborator: Johan Hake Ph.D (Simula)
Figure 1: uPy provides adaptors for multiple hosting applications and GUI libraries.
Figure 2: uPy may be used to host other applications such as BLAMer, which utilizes pyGAMer to display volumetric meshes inside Blender.