New Web Services Framework Enables Broader Access to Widely-used Biomolecular Electrostatics Tools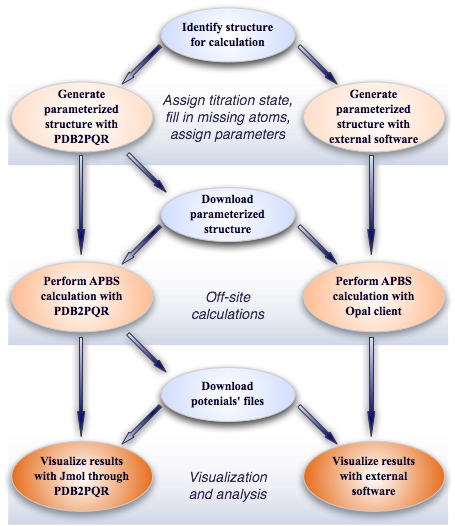 Scientists use a number of tools to investigate how cells develop, operate, communicate, and control their activities. Molecular interactions have several components, including biomolecular electrostatics, which is considered to be of special importance because of its long range nature and influence on polar or charged molecules (primary components in living systems). Biomolecular electrostatics is used to characterize the structure, motion, and function of a wide range of biological molecules. Two tools supported by NBCR, the Adaptive Poisson-Boltzmann Solver (APBS) and PDB2PQR, are widely-utilized free software packages for biomolecular electrostatics calculations (Baker 2001). Using our Opal toolkit, we have developed a web services framework that enables the use of the APBS and PDB2PQR software packages by users who do not have local access to the amount of computational resources required to run them. This not only expands the accessibility and usability of these tools to a wider range of scientists, educators, and students, it also enables the use of electrostatics calculations on portable computing platforms. There are two ways that users can access this new functionality. First, the current distribution of APBS has an Opal-enabled version, freely available on the web (Unni 2011). Second, we have extended the PDB2PQR web server to provide an interface for the setup, execution, and visualization of electrostatic potentials as calculated by APBS (Dolinsky 2007). This web interface also uses the Opal framework (Krishnan 2006), which ensures the scalability needed to support the large APBS user community. These resources are available online:
References:
Unni S, Huang Y, Hanson RM, Tobias M, Krishnan S, Li WW, Nielsen JE, Baker NA. Web servers and services for electrostatics calculations with APBS and PDB2PQR. J Comput Chem, 32 (7), 1488-1491, 2011
Dolinsky TJ, Czodrowski P, Li H, Nielsen JE, Jensen JH, Klebe G, Baker NA. PDB2PQR: Expanding and upgrading automated preparation of biomolecular structures for molecular simulations. Nucleic Acids Res, 35, W522-5, 2007
Baker NA, Sept D, Joseph S, Holst MJ, McCammon JA. Electrostatics of nanosystems: application to microtubules and the ribosome. Proc Natl Acad Sci USA, 98, 10037-41, 2001
Krishnan, S., et al. Opal: Simple Web Services Wrapers for Scientific Applications. in International Conference of Web Services. 2006. Chicago, USA
NBCR Researchers: Nathan Baker (Core Co-lead - Multiscale and Multiphysics Simulations Tools with Applications to Biomedical Systems); Wilfred W. Li (Core Co-lead - Flexible and Scalable Cyberinfrastructure Framework for Multiscale Biomedical Research); Sriram Krishnan, Jens E. Nielsen, and Robert M Hanson (Service Project Leads)
Figure: An overview of how users can interact with APBS Web services either through the stand-alone client or through the PDB2PQR web server. The web server offers the additional benefit of Jmol visualization without the requirement for additional software installation.