Major Step Forward in Patient-specific Heart Modeling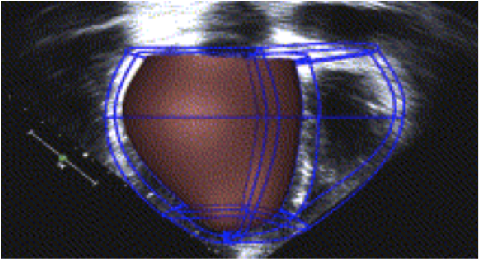 A "picture" of your failing heart is worth a thousand words. The development and clinical use of patient-specific models of the heart is now a possible goal. Models have the potential to help with diagnosis and support decision-making for cardiologists and their patients. Several research groups are now working to develop multiscale models of the heart; these models integrate the many physiological functions taking place in the heart. The models can be a tool for understanding how and why different treatments work, (or don't) and will better predict clinical outcomes of interventions for heart failure such as cardiac resynchronization therapy (which uses biventricular pacemakers).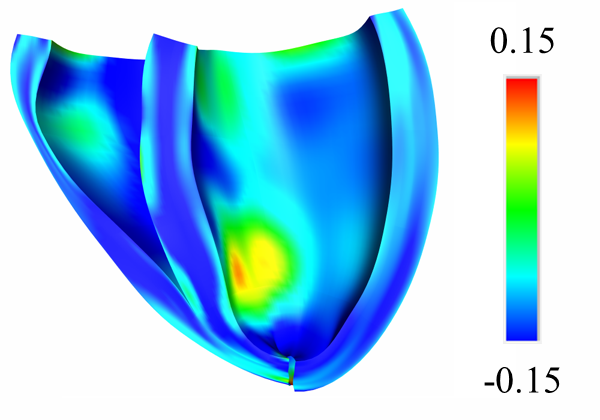 In collaboration with Sanjiv Narayan, M.D. and David Krummen, M.D., at the VA San Diego Medical Center, the McCulloch group has developed new methodologies for generating a patient-specific model of the failing heart complicated by a myocardial infarct (heart attack) and a conduction defect such as left ventricular bundle branch block (LBBB). This represents a major step forward in developing reliable patient-specific models of cardiac electromechanical activity. Additional key challenges that need to be solved include: efficiently generating accurate patient-specific geometric meshes and mapping the corresponding regional muscle tissue architecture; modeling electrical activation patterns based on cellular alterations in human heart failure and estimating regional tissue conductivities based on clinically measured electrocardiographic recordings; estimating unloaded ventricular reference geometry and material properties for biomechanical simulations; and parameterizing systemic models of circulatory dynamics from hemodynamic measurements. While there is much research to be done before this technology is a common tool for cardiologists, the development of this model of one person's failing heart is a glimpse of future possibilities.
References: Aguado-Sierra, J., et al., Patient-specific modeling of dyssynchronous heart failure: a case study. Prog Biophys Mol Biol, 2011. 107(1): p. 147-55.
NBCR Researchers: Andrew D. McCulloch (Core Lead - Multiscale Modeling Environment for Tissue and Organ Biophysics Core); Jazmin Aguado-Sierra, Roy Kerckhoffs, Sanjiv Narayan, David Krummen (Collaborative Project Lead)
Figure 1. Compact high-order cubic Hermite finite element mesh fitted to echocardiographic recordings of left and right ventricular shape in a patient with congestive heart failure (Aguado-Sierra et.al.).
Figure 2. End-systolic fiber strain in a long axis cross-section of the ventricles in a patient-specific model (Aguado-Sierra et.al.)