New Implementation of aMD Speeds Up Tool for Computer-aided Drug Discovery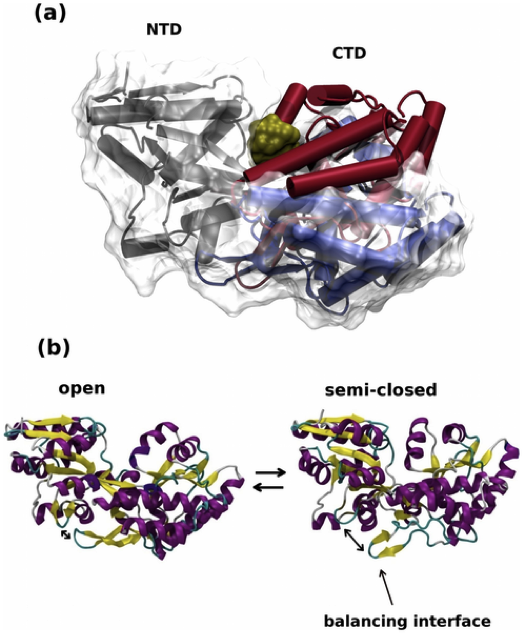 Found to be an efficient approach Drug discovery and design involves finding small molecules that are complementary in shape and charge to the biomolecular target with which they interact so that they will bind to it. Applying computational power to the combined chemical and biological aspects of this process is an ever-growing effort because doing so improves the speed of the process and development of effective treatments. Accelerated molecular dynamics (aMD) is an enhanced-sampling method that is being used in computer-aided drug discovery (CADD) in order to more rapidly identify potential compounds to dock with target proteins in a variety of diseases. aMD improves conformational space sampling by reducing energy barriers separating different states of a system (Hamelberg 2004). NBCR has developed an implementation of aMD, which is now available in the parallel simulation program NAMD--a popular MD simulation program released by another NIH biomedical technology center at UIUC, led by Klaus Schulten (Wang 2011). aMD simulations performed with NAMD have only a small overhead compared to classical MD simulations (cMD). The aMD method has been applied to simulations of lipid membrane systems, which may have important implications to the design of liposomes for drug delivery (Wang 2011b). The aMD simulations are found to produce significant speedup in trans-gauche isomerization and lipid lateral diffusion versus those in conventional MD (cMD) simulations. Further comparison of a 70-ns aMD run and a 300-ns cMD run of the mixed POPC:DMPC bilayer shows that the two simulations yield similar results (lipid mixing behaviors) with aMD generating a 2-3-fold increase in speed compared to cMD. This is the first demonstration that the aMD method is an efficient approach with comparable results for the study of bilayer structural and dynamic properties. The aMD method has also been implemented for Amber, another popular MD simulation package. In a study of the maltose binding protein (MBP), a member of a family of molecular transporters that play a key role in nutrient uptake and chemotaxis in Gram-negative bacteria, aMD has also provided a detailed picture of the transition between the open and partially closed states (Bucher 2011). The study confirms the existence of a dynamic equilibrium between these two states in apo MBP, and is in agreement with observations made in nuclear magnetic resonance (NMR) experiments.
References:
Hamelberg, D., J. Mongan, and J.A. McCammon, Accelerated molecular dynamics: a promising and efficient simulation method for biomolecules. J Chem Phys, 2004. 120(24): p. 11919-29.
Wang, Y., et al., Implementation of Accelerated Molecular Dynamics in NAMD. Comput Sci Discov, 2011. 4(1).
Wang, Y., et al., Enhanced Lipid Diffusion and Mixing in Accelerated Molecular Dynamics. J Chem Theory Comput, 2011. 7(10): p. 3199-3207.
Bucher, D., et al., Accessing a hidden conformation of the maltose binding protein using accelerated molecular dynamics. PLoS Comput Biol, 2011. 7(4): p. e1002034.
NBCR Researchers: J. Andrew McCammon (Core Lead - Computer Aided Drug Discovery), Yi Wang, Denis Bucher, Phineus Markwick, Klaus Schulten (Service Project Lead)
Figure:
(a) Cartoon representations of the open and closed X-ray structures of MBP (pdb code 1omp and 3mbp ). The N-terminal domains (NTDs) of apo and holo MBP are superimposed (grey); the displacement of the deficiency-terminal domains (CTD) in the open (blue) and closed (red) conformations is also shown.
(b) The ligand maltotriose, highlighted in yellow. Ligands—small molecules that will bind tightly to their target—they are commonly used in computational approaches to drug discovery.